Proven design rated for 10,000 full load operations
Polymerinsulation provides industry leading reliability
Air insulation for an environmentally friendly design
Minimal maintenance required for the high voltage unit
Web Human Machine Interface (web HMI) software for field configuration
Communication : MODBUS, DNP3.0, DNP3.0,IEC 60870-5-101, IEC 60870-5-104.
Specifications:
Pomanique's GX-Series three-phase, electronically controlled, vacuum- interrupting distribution automation
switch provides reliable, economical switching, sectionalizing, advanced metering, and automation systems
for distribution circuits rated up to 38 kV.
The GX switch combines solid insulation vacuum interrupters with a reliable, lightweight operating mechanism that utilizes a magnetic actuator to provide a lifetime of trouble- free operation. The solid polymer system does not rely on a gaseous, liquid, or foam dielectric. The GX switch is highly resistant to ozone, oxygen, moisture, contamination, and ultraviolet light.
Switch operations are programmed in an electronic control with accurate characteristics and a host of advanced features. When system requirements change, program settings are easily altered with no sacrifice of accuracy or consistency.
Pomanique's reclosers meet all the requirements for outdoor use in accordance with the IEEE C37.60 and IEC 62271-111.
15.5kV

50/60Hz

Rated

Current

Rated

duration

of

short

-circuit

Rated short-

Circuit

Break

Rated short-

circuit

Rated

impulse

with-

stand

voltage

P.F.

with-

stand

Voltage

Imped

-ance

μΩ

Creepage

distance

phase-

to-earth

Leakage

Phase-

to-phase

Leakage

phase-

to-earth

Weight

Line

Charg

current

Cable

Charg

Current

Max.

Open

time /

max.

close

time

Ir

A

Tk

s

Isc

kA

Ima

kA

Up

kV

Ud

kV

μΩ

mm

mm

mm

kg

A

A

ms

GX15-630-12-N

630

3

12.5

31.5

110

50

50

850

320

270

130

2

10

60/60

GX15-800-12-N

800

3

12.5

31.5

110

50

50

850

320

270

130

2

10

60/60

GX15-630-16-N

630

3

16

40

110

50

50

850

320

270

130

2

10

60/60

GX15-800-16-N

800

3

16

40

110

50

50

850

320

270

130

2

10

60/60

27kV

50/60Hz

Ir

A

Tk

s

Isc

kA

Ima

kA

Up

kV

Ud

kV

μΩ

mm

mm

mm

kg

A

A

ms

GX27-630-12-N

630

3

12.5

31.5

125

60

50

850

320

270

140

5

25

60/60

GX27-800-12-N

800

3

12.5

31.5

125

60

50

850

320

270

140

5

25

60/60

GX27-630-16-N

630

3

16

40

125

60

50

850

320

270

140

5

25

60/60

GX27-800-16-N

800

3

16

40

125

60

50

850

320

270

140

5

25

60/60

38kV

50/60Hz

Ir

A

Tk

s

Isc

kA

Ima

kA

Up

kV

Ud

kV

μΩ

mm

mm

mm

kg

A

A

ms

GX38-630-12-N

630

3

12.5

31.5

170

70

50

1290

320

350

150

5

40

60/60

GX38-800-12-N

800

3

12.5

31.5

170

70

50

1290

320

350

150

5

40

60/60

GX38-630-16-N

630

3

16

40

170

70

50

1290

320

350

150

5

40

60/60

GX38-800-16-N

800

3

16

40

170

70

50

1290

320

350

150

5

40

60/60
Controller: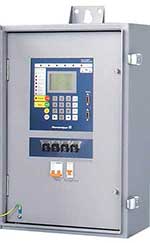 Protect Functions:
Phase Over current Protection
Phase Reclosing Protection
Earth Fault Over Current Protection
Zero Sequence Reclosing Protection
Frequency Protection
Line Voltage Protection
Inrush current Restraint
Negative Sequence Protection
Switch Operation Protection